Allereerst een hartelijk welkom aan onze nieuwe designer, Ria Dekkers. Ze is al een paar keer gastdesigner geweest, en heeft ook op de Art Specially beurs meegeholpen, dus jullie kunnen haar (of haar werk) al eens zijn tegen gekomen. Wij hopen dat jullie haar werk zullen waarderen, laat zo af en toe eens een kommentaar achter om dat te laten blijken!
Deze maand staat het blog in het teken van Halloween. Er komen voornamelijk Halloween werkstukken langs, zelfs onze gastdesigner doet daaraan mee. Ook dat is een "oude bekende", namelijk onze voormalige designer Silke Rieger. Silke heeft een aantal geweldige werkstukken voor jullie in petto, dus blijf dit blog dagelijks bezoeken!
First a warm welcome to our new designer, Ria Dekkers. She has been our guestdesigner a couple of times, and has helped at the Art Specially show too, so you can have met her (or her work) before. We hope you will appreciate her work, please leave a comment every now and then to express that!
This month the blog is in Halloween-mood. There will be mostly Halloween artwork, even our guestdesigner will participate in that. She also is an "old acquaintance", our former designer Silke Rieger. Silke has made some really special artwork for you, so keep visiting this blog every day!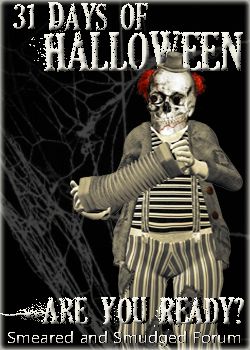 Jetske has bravely allowed me,
Blackdragon
to enter this blog in the month long
we shall be spending the next 31 days celebrating everything HALLOWEEN,
DAY OF THE DEAD, SAMHAIM... or just plain old CREEPY.
I have the honour of making the calender for OCTOBER......
It's BIG.... VERY BIG..... 30x ATC size compartments with one larger triangular compartment at
the top for the 31st.......... HALLOWEEN.
If you want to know whats behind door number 1 you'll have to visit
my blog
..... every day i shall be opening a door ...right up to the big day.
This calender is made from foam core board.... heavy duty mount board.... home-made texture paste, that i stamped into then painted. The numbers are cut from mount board.... 'october' are wooden letters.... all the creepy crawlies are from the pound store.... painted to stop them looking so cheap!
SUPPLIES USED
The full blog roll will remain at the top of the sidebar for the whole of October.
I hope you'll visit us here every day to see what amazingly creative art pieces this design team have in store for you.
Happy hopping.... BDx